The Kalandor is a camp/survival knife that I recommend alongside the Prémvadász and the Leuku for all kinds of camp tasks. Since it is quite a large and heavy knife, it is not the best choice for smaller tours, but during multi-day adventures it can be used very well, even instead of an ax, for building shelters, chopping firewood and for all other forest tasks where you can use its power and efficiency. The adventurer's blade is made of sleipner tool steel, 18cm long and 4cm wide. The point of the knife is convex, the blade widens slightly from the handle to the curved cutting edge. I make it with saber sharpening, the approx. 22 mm high straight cutting edge ends in a convex cutting edge. This is a strong edge construction that cuts well, is easy to sharpen, maintain, and can also be used for more demanding tasks. The thickness of the blade is 6 mm, the hardness is 58-60 HRC.
The handle is a classic shape. The handle guard is formed from the blade. The back of the grip is gently curved, the lower contour widens in the middle, and the pointer and little finger have a pronounced concavity. The end of the handle is sufficiently wide, so it can be held securely even when chopping and cutting wood, it has a bird's head shape. There is no relief in the grip, so the knife is as strong as possible, and the center of gravity is also in the right place. The grip panel can be made of G10/FR4, mikarta, or some kind of wood. It can also be shaped in at least two ways. One is the "dog bone" shape, which has curved grooves in the handle on both sides at the front and back, so the handle is equally thick at the front, center and back, and fits well into the depressions.
the two edges of the palm can be smoothed. It's an interesting, very solid shape, I'll be using it a lot. Another solution is the "fish" shape common on bushcraft knives. In the case of synthetic materials, the surface of the handle can be well tuned with "random" filing. The knife can be ordered with or without a break end, the cord hole is located on the break end.
The holster is a purse holster made of thick cowhide with inner blade guide plates and a double layer of edge protection. I also put a D ring on it, so the knife can be worn on the belt by hanging it with an extension or a carabiner.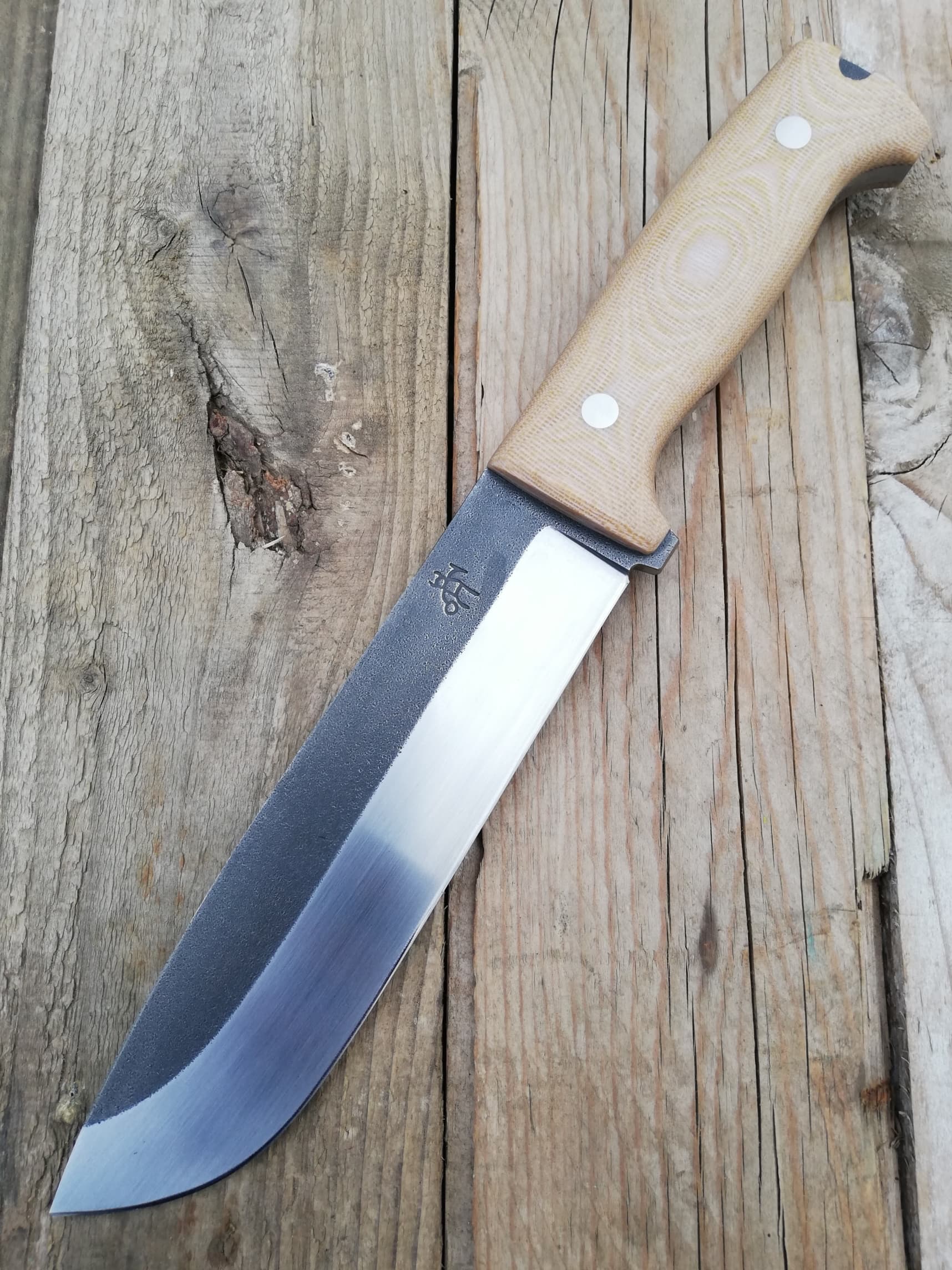 Blade size:
180x40x4 (6)mm
Blade material:
Sleipner  60HRC
Handle size:
128x34x22mm
Handle material:
FR4, wood, micarta
Total length:
180mm
Area of use:
The knife is a useful tool for camping, hiking, and expeditions
survival/camp knife on duty.