Planning of Nordic is based on the famous finnish puukko. Puukko has a very comfortable handle, and this tool is optimized to high cutting performance, which shows excellently the finnish people's natur admirer, pragmatic way of thinking.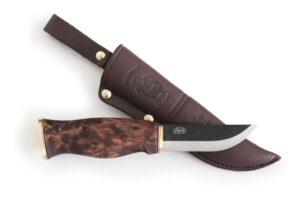 The blade of Nordic has straight spine, and arched tip. The edge is scandivex, which is a scandi grind with a narrow, convex cutting edge. The blade is getting a bit narrow to the tip, which makes better the cutting ability, because we can pull the edge with a natural cutting movement throught the materials. Handle is not a typical puukko handle, because it is a full tang version. In big cold it is not as a pleasant grip as a puukko handle, because we hold the cold steel in handle also, but in our climate it is not very important, and in exchange this knife is much stronger than an average finnish knife.
The small cavity in the begining of handle gives enough protection for hand to avoide slipping to the edge. The handle is a barrell shape, comfortable, the big pommel makes more stable the holding of knife, and on the other hand, you can use the knife as a chisel, because it is possible to push it to wood with big force. During bushcraft actions this feature can be very serviceable.
Deatils of Nordic:
Blade size:
110x33x5mm
Blade material:
Sleipner, Rigor, N690, 59-61HRC
Handle size:
120x33x22mm
Handle material:
FR4, wood, micarta
Field of usage:
Bushcraft
Base price:
142 EUR + shipping
Micarta – 9 EUR
N690 steel – 7 EUR